Is Unlimited Video Editing
Too Good To Be True?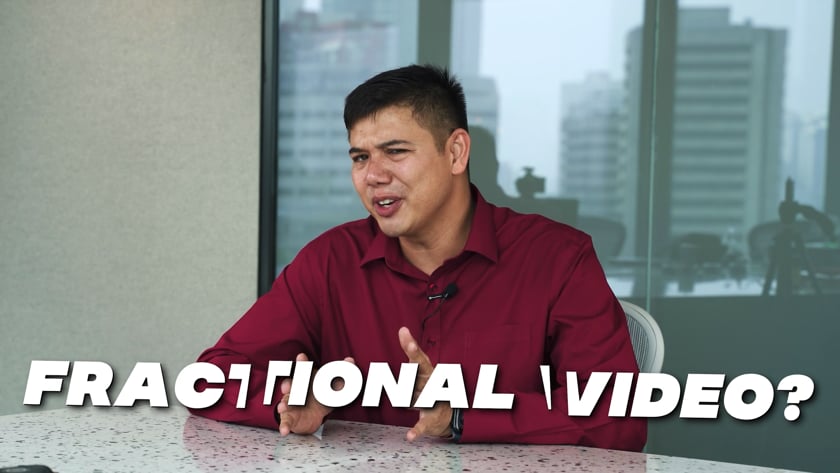 Whether you want to create a talking head video, an explainer video, or repurpose long form content for social media clips, a video editing service helps you create high-quality videos to achieve your goals on autopilot.
But not all video editing services are created equal. What are the key differences in video editing companies?
One is how they are marketed to you.
At Vidpros we offer fractional video editing. Our competitors offer unlimited video editing.
Is an unlimited video service really unlimited? And most importantly, is an unlimited video editing service the best option for you?
Read on to learn more about the differences so you can make a more informed choice.
Examples of Unlimited Video Editing Services:
What is unlimited video editing?
At its core, they offer unlimited video editing for a fixed monthly price. While you have many service providers to choose from, most share the same basic underlying process:
You submit your raw files and instructions/vision for the completed video
After 1-2 business days, you receive the first draft
You review the video and can request any revisions you want
Your editor makes further edits for you to check
You can repeat the steps with unlimited revisions until you are happy with your video
You mark the project as complete and receive the finished video in the format of your choice
Your editor starts on your next project
It's a simple process. It could be a total lifesaver if you want to offload tedious video editing to someone else.
Ok…It Sounds Great…But Is It Really Unlimited*?
That's a great question.
We all know you can't ask the genie in the lamp for unlimited wishes. Nice try though.
It works the same in business. In cell phones unlimited data was marketing speak for we'll throttle your usage to an unusable slow speed after a certain amount of data usage.
It's basically the same scenario when you sign up for unlimited video editing. There isn't an endless team of video editors waiting to work on every request you send in.
If you read the fine print, you see that most companies break down "unlimited" to mean unlimited requests, not work completed. A request is just you submitting an order. Not the service provider delivering the work. Who in their right mind would consider this to be a feature?
Unlimited Video Editing Or Unlimited Revisions?
Unlimited revisions mean you can go back and forth with edits and revisions until you get the video you're happy with, but this always eats into time your editor could be working on new projects.
At the end of the day, you usually pay for one editor's time to work on your requests, and their time is always limited.
If you request 100 video edits… there will be a severe backlog that won't be completed anytime soon.
How dedicated is your dedicated video editor?
A common misconception is the term dedicated video editor which some assume is the equivalent of a full time employee.
Your dedicated editor usually has between 5-7 daily clients.
A typical editor at an unlimited video editing service works 8 hours a day, five days a week. If your assigned editor only has seven clients, that means you're only getting around an hour's worth of time for your projects.
The more clients your editor serves, the less time they spend on your projects. When experienced video editors sign up for an unlimited video editing service they'll often complain about output, quality, or both.
An extreme example of the lack of transparency in an unlimited service is when a 1 person company scaled to 50+ customers offering unlimited grapic design. Antics ensue as recounted by a former customer on twitter.
I don't like to be negative. It's a lot more fun to only ever be positive and ignore the stuff that bothers you.

But, lack of accountability on the internet is a problem, and the last few months have brought that to a head for me, personally.

Story time: pic.twitter.com/lO4iIOMPDo

— Adam Elmore (@adamdotdev) April 24, 2022
What It All Means For You
The critical takeaway is that you don't actually get unlimited video editing. Instead, you get unlimited work requests each month. How many of your work requests are completed is based on how many editing hours you receive each day/week/month.
Most unlimited video editing services don't discuss how much time is dedicated to your projects. They instead create some guard rails limiting scope and or quality. Some examples could be limits on duration, file sizes, or types of videos edited.
So, now that you understand the "unlimited" video editing landscape a bit better…is there a better way?
Need help with video editing?
Vidpros can help with our vetted on demand team. Want to know more?
Enter Stage Right – Vidpros Fractional Video Editing
At Vidpros we offer on demand fractional video editing with a simple monthly subscription.
What exactly is fractional video editing?
The simple way to think of it is that you are buying a portion of an editor's day.
With a fractional video editor, the offer is…
"X" amount of editing time per day – for "Y" dollars per month.
There's no limits on scope or quality since you're buying a portion of a video editor's day. You can tell us if you want to optimize for quality, price, or output.
For example need more output? You can't buy two unlimiteds, but you can buy more Vidpros fractional time.
Need higher quality more complex edits? It might just take a few more fractional days or you can upgrade your daily hours.
Need to have the lowest price possible? We'll work with you on making the workflow as efficient as possible and minimize editor underutilization.
There's the old saying pick 2: good, fast, or cheap. At Vidpros we'll work with you to optimize for your unique goals.
Is this service right for you? Could fractional video editing solve your problem?
Are you…
A content creator? Do you want to upload more videos and grow your YouTube channel? Do you wish to gain social media followers?
A business owner who wants to attract new customers using on-brand video to showcase your product or service?
An agency that wants to white-label our services?
Tired and burnt out from editing your videos? Would you like to free up your time to work on things that drive growth and increase revenue?
If you want high-performing video content without the hassle and expense of hiring a full-time editor, then fractional video editing could be the perfect fit for you.
You have several options to consider when it's time to edit your videos. You could…
Do It Yourself
This is a great way to get started if you can't afford to pay someone else. If you understand how the entire video creation process works, it's easier to communicate and work with any editors you hire.
Eventually, though, you risk burnout from spreading yourself too thin. You quickly find that editing work is often boring and extremely time-consuming.
If you outsource your video edits to a professional standard, you free up a massive chunk of time and mental bandwidth.
Hire An In-House Editor
You can also take on an employee. You post a job ad, and maybe 20+ candidates apply. You sort through the applicants and interview the most promising candidates without guaranteeing a good fit.
If you hire someone, it's time to onboard and train them, and directly manage their work. You get the bonus of feeling responsible for another person's livelihood.
What happens when they need a day off or call in sick? Did you give them vacation time?
Can you help your editor continually improve and stay on top of industry trends and developments?
Hire A Freelance Editor
You can also hire a freelancer. The freelance hiring process has all the headaches of a traditional hire, with the added problem that the best ones are usually unavailable. They are already fully booked.
Even if you are lucky enough to find a good one, your freelancer can raise their rates at any time or decide to take on other projects instead.
Like an employee, your freelancer can fall ill anytime or need some time off. What happens to your workflow and content schedule when it happens?
Can you step in and clear the bottleneck yourself by working extra hours or ignoring other tasks? How long can you survive in stop-gap mode before things begin to fall apart?
Partner With A Professional Video Editing Service
Or, you could team up with professionals at a video editing service. Editing videos is all they do. No offense to your video editing skills, but they likely can do it better and faster.
You can also skip the hiring and staffing hassles. You reap the benefits of having a dedicated editor collaborating on your projects with you. And when they need a day off? Their team members step in and keep your projects on schedule.
All of this means time saved for you. You can redirect your new-found time to whatever you choose.
You may want to focus on the creative side of your channel. You have a huge list of ideas you'd love to work on but haven't had the time. You could connect and interact with your community, run promos, or collaborate on giveaways with new sponsors on Instagram.
Or, you could enjoy some free time and have more balance in your life.
What would you do with an extra hour or two each day?
Accelerate Your Growth With Vidpros
We've curated a team of expert video editors ready to tackle your next project. We cap our editors at an industry-leading maximum of 4 clients, and this ensures you 2 hours per day of editing time, five days a week.
If you want more editing time? It's simple… just tell us. With Vidpros, you know what to expect and can plan your weekly content schedule around our services.
When you partner with Vidpros, you get:
An assigned editor to collaborate with
Industry-leading client-to-editor ratio (4:1)
Overnight turnarounds. (depending on complexity)
Simple and streamlined submission and communication process
Unlimited project submissions
Unlimited revisions until you're thrilled with the finished video
Free stock photos and audio (royalty-free, no copyright issues!)
The ability to white-label our service with your own branded client portal for resellers
14-day 100% money-back guarantee
If you love to make videos but want help with the editing process, then contact us and ask how we can help!
We're experts at video and have happily helped hundreds of content creators and business owners like you grow their channels.
High-quality video editing doesn't have to break the bank, either. With Vipros, you get monthly packages that cost less than hiring an in-house editor or constantly working with freelancers.
Joe is our customer support specialist and is here to help you navigate the video editing process. If you just want some advice, your most welcome.
Vidpros isn't for everyone, and if our services don't align with your needs, goals, or budget, we can advise you on the best solution for your specific situation.
Perhaps you're better off continuing to edit your work while you grow, or maybe a freelancer would be your best bet.
But if you are on the fence, you should book the call because we are limited in the number of new clients we can take on each month.
The Vidpro
2 hrs Per Workday Dedicated Editor

*Based on project complexity

Agency/White Label
Contact
Us
Customer Portal w/ Your Branding

Learn more about our white labeling service.
Book a call to get started with Vidpros today.
Our Clients Rave About Us