Would you like to hire experts who can free up your time and take your business to the next level while still making great cost savings?
If this sounds like something you might be interested in at some point, you're in the right place.
We decided to build our team in a top outsourcing destination, the Philippines, over four years ago – it was the best decision possible. It's allowed Vidpros to offer industry-leading video editing services for prices that almost don't make sense and all without sacrificing quality.
The end result? We have a roster of happy and loyal customers we love working with. And a business providing creative services that keep our customers coming back month after month and year after year. Vidpros is growing, and we want to help you on your way by sharing some of what has worked for us by creating outsourced teams using great Filipino employees.
We're here to help you decide if you should build an offshore team in the Philippines, too. Get first-hand information about:
Why the Philippines is the perfect outsourcing destination – through the lens of the rising BPO industry
What roles you can outsource to the Philippines
How much you should expect to pay for various roles using Filipino workers
The Rise Of BPO Services
First off, what is BPO?
BPO stands for business process outsourcing. Think medium to large companies from Western countries outsourcing entire departments or job functions to a 3rd-party-service provider using remote workers in another location for economic advantage. They contract with a BPO service provider with an established business, office space, and access to local talent to manage a portion of their business for them.
This removes the need to register a local business, build physical office space, hire and manage staff, and deal with stuff like health insurance and other legal issues.
Why should you care?
It's boom time in the Philippines for foreign companies of any size to build offshore teams. The benefits are the same, whether you only need one single hire, or are considering a team.
What's happening in the Philippines?
2022 was a big year for the Philippines' BPO industry. It beat growth forecasts for revenue growth and employee headcount. Revenue grew by 10.3% to reach $32.5 billion, while the number of Filipinos employed by BPO companies rose by 8.4% to reach 1.57 million.
The sectors with the most growth were financial services, health care, retail, technology, and telecommunications. Top tasks in these sectors have been administrative processes and virtual assistant work such as appointment setting and similar organisational work.
IBPAP forecasts this trend to continue in 2023, with revenue reaching $35.7 billion and the future BPO workforce reaching 1.7 million. And we haven't mentioned the vibrant freelancer economy yet. A further estimated 1.5 million Filipinos currently offer their services on online platforms.
Several factors contribute to the growth of offshore outsourcing…
Labor Is Cheap
Don't want to pay Western rates? No problem, get a remote worker in a cheaper location. There is actually quality talent everywhere – it is just a question of matching what works in a specific destination to your outsourcing needs. If you want a great curry chef, you'll probably find one in India. If you're looking for offshore staff with a service-oriented mindset, then the Philippines is a great place to start.
The Philippines offers a large pool of skilled workers at a significantly lower cost than locations like the United States or the EU. If you know what skills to look for, then you can pull this off without compromising quality.
It's no wonder giants like American Express, Wells Fargo, and Facebook have a track record of building parts of their outsourced teams there.
Excellent English Makes It Easy
Did you know that English is one of two official languages in the Philippines?
The Philippines ranks #2 for English language proficiency in Asia, behind Singapore, and #22 globally.
No wonder Filipinos are so well-suited for customer support type roles.
Have you worried about language barriers getting in the way if you outsource to another country to save money?
While they have a slightly different culture that you need to learn about and adapt to, Filipinos will understand your instructions. The Philippines is a Christian country, meaning that it has a strong cultural compatibility with Europe and North America – the main cultural template is the same.
You can also feel confident your brand won't be damaged if you hand over client-facing communications – Filipino employees have a reputation for being generous and caring, so they can fit into customer-facing roles with a sense of patience and a positive attitude that would be exemplary for most Westerners.
The Government Cares
The Philippine government supports the BPO industry with policies and incentives to attract foreign investors. These include tax incentives, infrastructure development, and educational programs to produce a skilled Filipino workforce.
Culturally Compatible
After over 300 years of Spanish colonization, the Philippines was a US sovereign territory from 1898 to 1946. There are many lasting effects on Filipino culture from both nations.
Filipinos have a strong affinity for Western culture (especially American), which makes it easier for them to successfully integrate into your operation.
They are also known for their friendly and hospitable ways, which shines through in customer service-oriented roles.
Challenges and Outlook For The Future
The Philippines faces competition from countries such as India and Mexico, and the rise of automation and artificial intelligence disrupts work everywhere.
The Philippines has been shifting towards higher-value services, such as knowledge process outsourcing (KPO) and IT consulting, to remain competitive.
Also, in their favor, the Philippines has a robust education system that produces over 500,000 graduates ready to work for outsourcing companies each year. And the Philippines has a very young population – the average age is only 25.7 years old.
Roles You Can Outsource to the Philippines
So what kind of work can you outsource to the Philippines anyways? Here's a look at some of the most common services provided.
Customer Support and Call Center Services
Their bread and butter, and how it all began. With English as an official language, high literacy rates, and familiarity with foreign cultures, the Philippines is a natural choice for your customer support roles.
Filipino customer service representatives are skilled at handling customer inquiries, providing technical assistance, and resolving issues promptly.
Virtual Assistance and Admin Support
In addition to near-native English abilities, Filipinos are organized. They can take over your admin work, so you can focus on the bigger picture. Filipino VAs excel in email management, data entry, scheduling, travel arrangements, and other admin support tasks you throw their way.
IT and Software Development
If you need tech help, The Philippines is a great place to shop around. You can pick from a large pool of skilled IT professionals and software developers and save 60-70% on labor costs without compromising on quality.
The country's educational systems pump out a significant number of computer science grads each year and the standards are rising due to competition.
Content Writing and Copywriting
Because Filipino writers have solid English language skills, they can think, speak, and write creatively. You can get high-quality content writing and copywriting services – including engaging blog posts, articles, social media content, product descriptions and pretty much anything else you can think of.
Digital Marketing and SEO
Want help to grow your online presence and gain more customers?
Tap into the growing digital marketing industry in the Philippines. A rising talent pool is well-versed in social media management, SEO, content marketing, PPC advertising, and email marketing.
Accounting and Bookkeeping
You can easily find qualified accountants who are well-versed in international accounting standards. Many university programs focus on foreign accounting systems as graduates expect to earn more money from foreign companies.
Data Entry and Data Processing
Data entry, data mining, data cleansing, data analysis, and database management services are all readily available and highly affordable. Filipino professionals possess excellent attention to detail, accuracy, and efficiency in handling large volumes of data.
Many multinational companies outsource data entry and data processing tasks to Philippines-based BPO firms like Accenture and IBM.
Human Resources
If you want to streamline your HR processes and save money, consider outsourcing your HR needs to the Philippines.
You can access a skilled workforce in HR-related services, which includes recruitment, employee onboarding, benefits administration, payroll management, and HR consulting.
E-commerce Support
Do you want help with your Shopify or FBA store?
You can get help with product listing, order processing, inventory management and customer support to streamline your e-commerce operation.
The Philippines is also a regular choice for:
Video game development – get your entire game built from scratch
Web design and development – websites and applications
Research and market analysis – get insights to support strategic decisions
Engineering and architecture – drafting, CAD design and 3D modeling
Graphic design and multimedia – logos, illustration, video editing and animation
Medical transcription – transcription, billing, and coding
The Philippines' outsourcing industry may have been built on the back of call centers and virtual assistants, but its future is to provide skilled professionals for tasks like IT, Software Development and Video Editing.
How Much Should You Expect To Pay?
It depends on how you hire. A freelancer costs more than a part-time or full-time hire.
Find Freelancers On Upwork
Let's search Upwork for a back-end developer from the Philippines (filter by location) to give an example.
You can find junior developers for as low as $7.50-10.00/hr USD. If you hired one full-time for a month (160 hrs), it would cost you $1200- $1600.
But because Upwork is a global platform, there's also a lot of Filipino talent charging "normal rates." Rates for experienced back-end developers go up to $150/hr+ – Candidates like this would normally have a much more significant track record than someone back home working for a similar rate – that would be your benefit here. Integrating on this payscale could work especially well if you need high-skilled talent working at hours that are compatible with Asia, so a 24-hour emergency "coding fix" service, for example.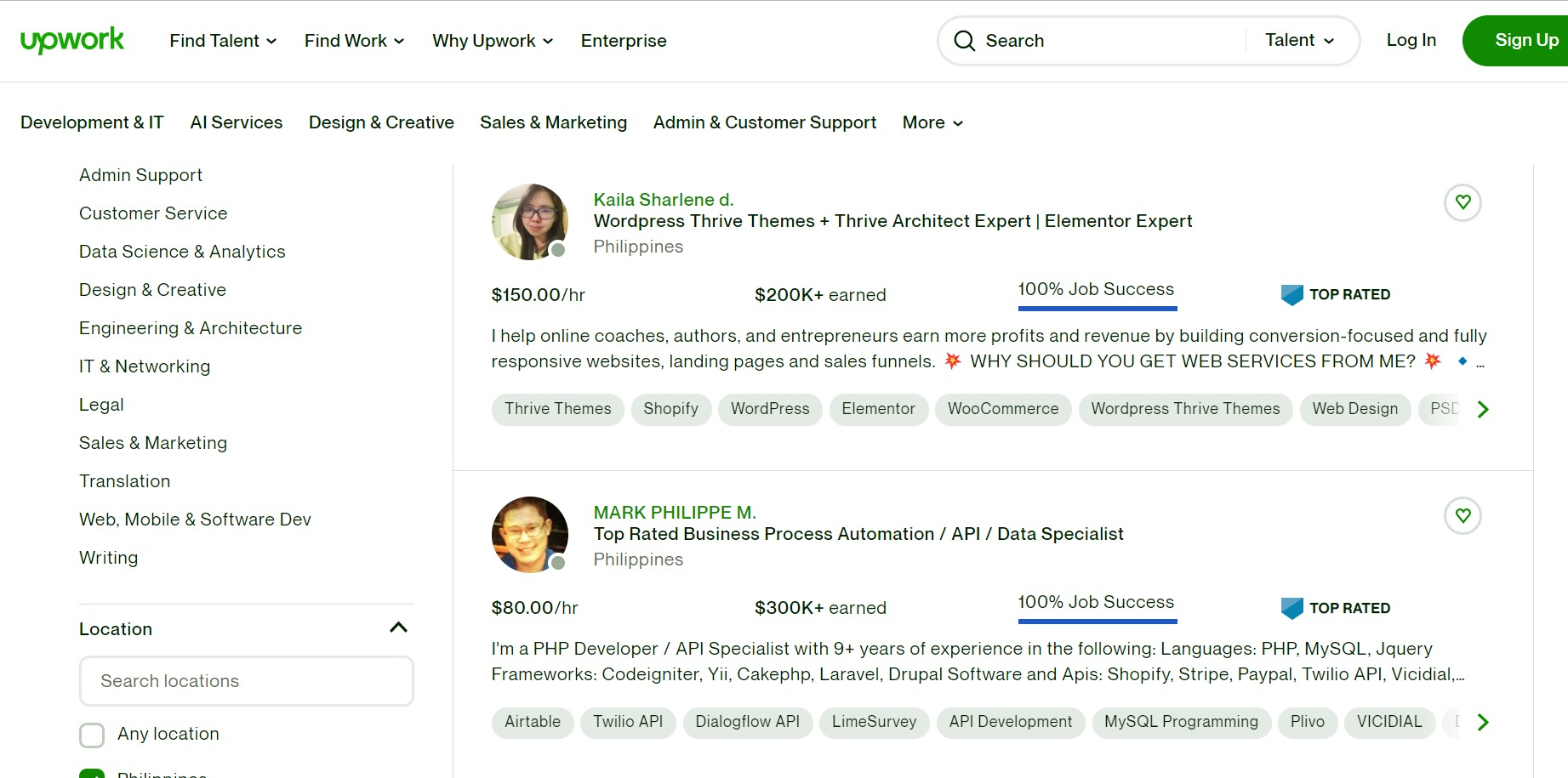 Freelancing platforms like Upwork are typically best suited for one-off jobs or when you can only offer a limited number of hours each week. Getting long-term employees on here isn't impossible, but it can be a struggle due to the "one-off gig" mentality fostered by the platform.
Use Job Boards For Long Term Roles
If you want to hire part-time or full-time, you should post an ad on a job board like onlinejobs.ph.
If you do, you can expect to pay between $500-$1500 per month for most full-time help – role dependant. Virtual assistants obviously cost less than a full-stack developer or an expert video editor.
Here's a look at some ballpark rates:
Accountant (CPA): $550-$1500/month
Amazon VA (Amazon virtual assistant): $450-$750/month
Back-end web developer: $500-$1500/month
Bookkeeper: $400-$700/month
Content Writer/Article Writer: $500-$900/month
Customer Service: $500-$700/month
Data Entry: $350-$550/month
Digital Marketing: $500-$1500/month
Front-end web developer: $600-$1200/month
Full-Stack web developer: $800-$2,000/month
General Virtual Assistant: $500-$750/month
Graphic Designer: $550-$850/month
SEO Specialist: $500-$1200/month
Telemarketer: $500-$800/month
Video Editor: $1000-$2000/month
Entry to junior-level hires are at the low end of the pay scale and expect to pay the high end for expert talent with 5+ years of experience.
That's All Folks- Well Almost…
The Philippines clearly has it going on right now, and they are poised to remain the outsourcing location of choice for the English-speaking world.
Your ability to hire freelancers and independent contractors gives you easy and affordable access to their diverse talent pool. You don't need to register a legal business in the Philippines and hire employees to get your business needs met.
Want to learn more about hiring and outsourcing to the Philippines? We have more of our hard-earned experience to share. Check out the articles below to learn more. Thanks for hanging out, and happy outsourcing.
Should You Outsource Your Video Editing To The Philippines?
How to hire video editors in the Philippines

If you are specifically looking to hire video editors on a regular basis, then hit us up as that is our speciality. We can usually help with the decision to hire an agency or a freelancer and welcome the opportunity to share our experience.